I am just elated to get to share this lovely post from my good friend, Samantha.
She is faithful to link up at our Weekend Potluck party...her recipes are often featured there, and we have gotten to know each other more over time, so I was very happy when she agreed to do a guest post for me. Her photos are amazing and her recipes will make you swoon....please extend a warm welcome to this very special lady, mom, recipe creator, photographer...and more...
Take it away Sam....
Hi there, fabulous The Better Baker Blog readers! It's Samantha from
Five Heart Home
, and I'm so excited to be guest posting for Marsha today while she soaks up the sun in Florida! Before I share the yummy recipe that I brought over, I wanted to take a moment to introduce myself.

I live with my amazing hubby, two energetic boys, and sweet baby girl in the heart of Texas. The days are crazy but the love is plenty between the
five
hearts
that make up our
home
! Like many of you,
the recipes I cook
need to be quick, easy, and kid-approved, so that's what I blog about at
Five Heart Home
...family-friendly recipes using fresh, (mostly) real food ingredients. In my abundant spare time (ha), I also enjoy creating
free seasonal printables
to share with my readers!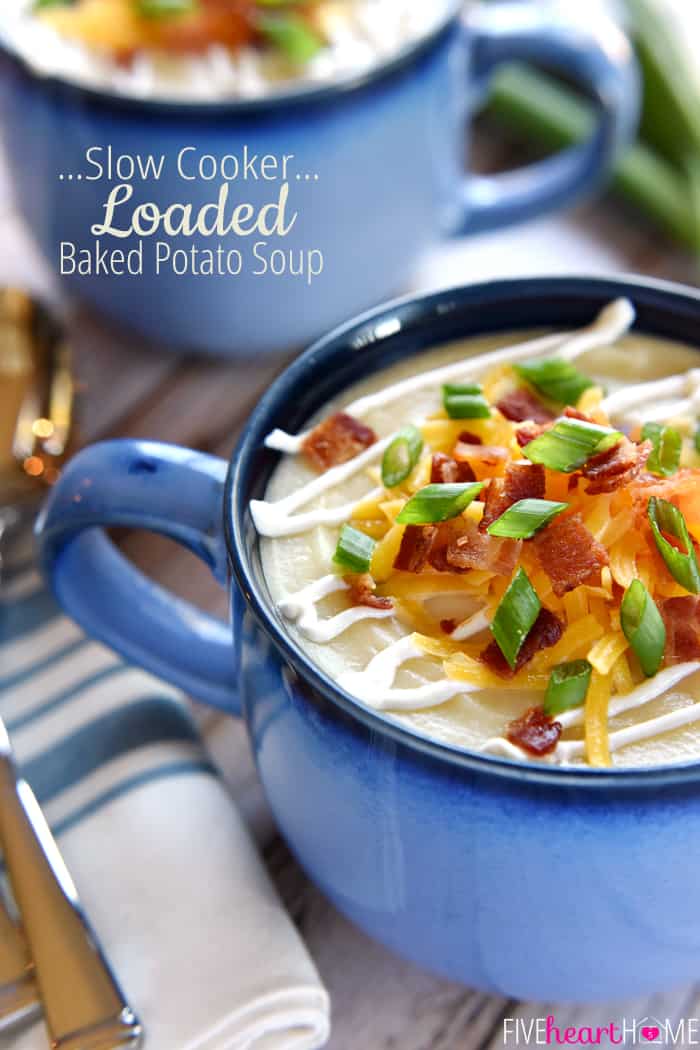 But enough about me...how are y'all? Have you been staying warm this February? Texas has been swinging back and forth all winter between frigid temps and unseasonably spring-like weather. But one thing I can say for sure is that my family has been enjoying this Slow Cooker Baked Potato Soup all winter long, regardless of the current forecast! Seriously, y'all, I would have no complaints about eating this once a week, year-round...
it's just that good
.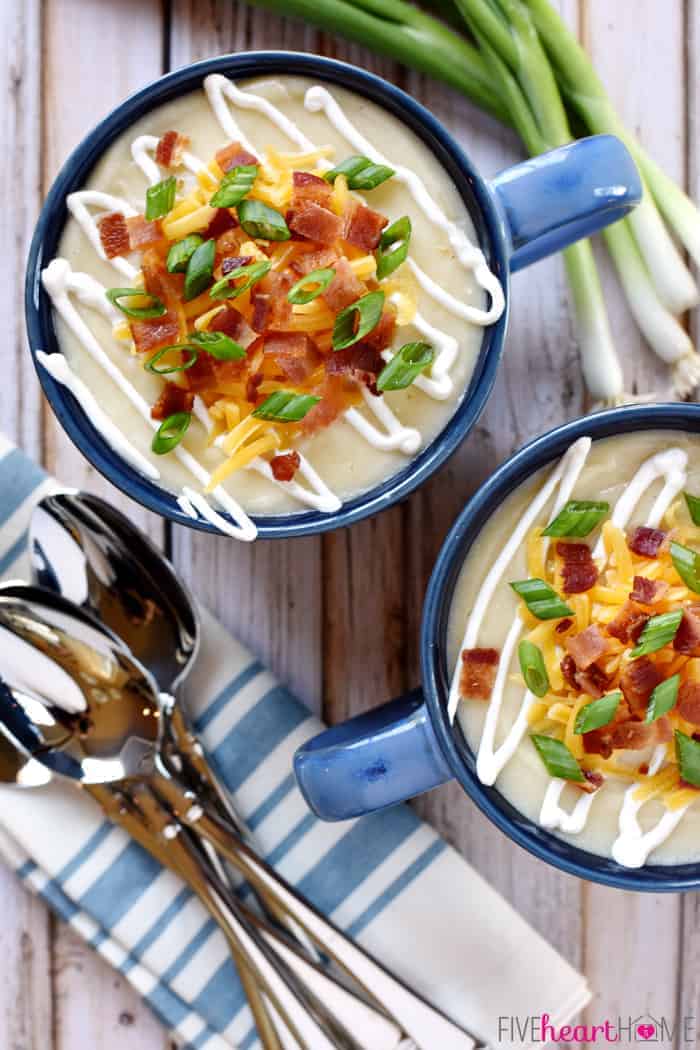 After all, what's more comforting than a bowl of silky, sour-cream-and-butter-laced potato soup, drizzled with more sour cream and generously topped with freshly grated cheddar and crispy diced bacon? And to make it even better, this recipe is beyond quick and easy to whip up in the crock pot!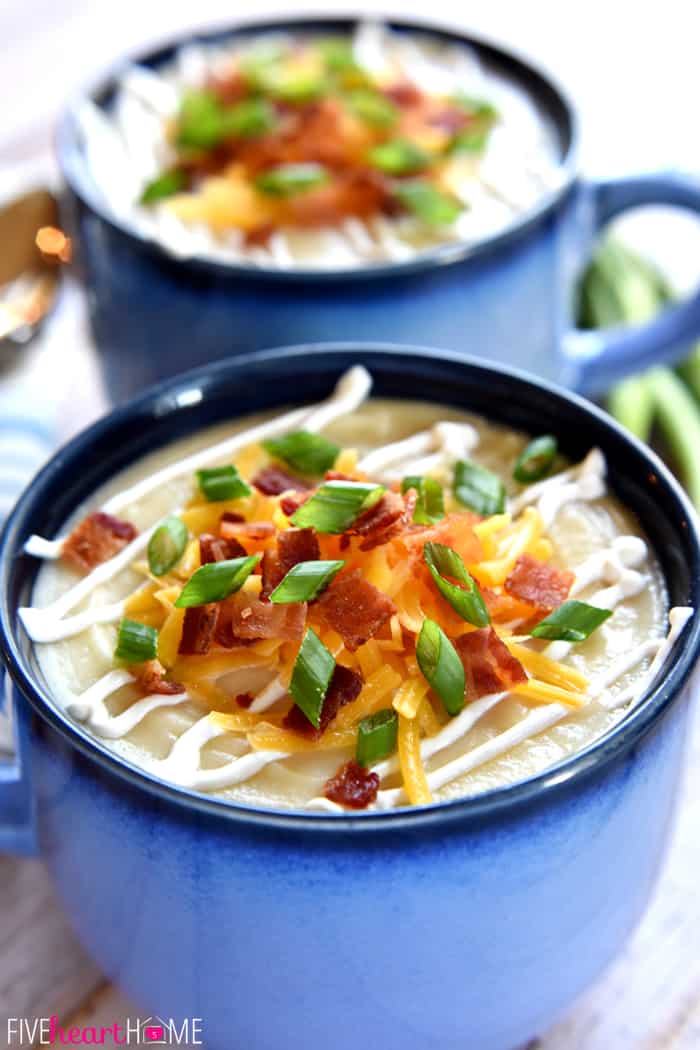 Simply toss some cubed potatoes, garlic, and seasonings into the slow cooker and allow everything to cook in a nice chicken broth bath. Then use an immersion blender to puree the potatoes until smooth and creamy. Stir in some milk, sour cream, butter, and cheese and then serve the whole shebang with your favorite baked potato garnishes piled on top. Easy peasy and oh-so-delicious!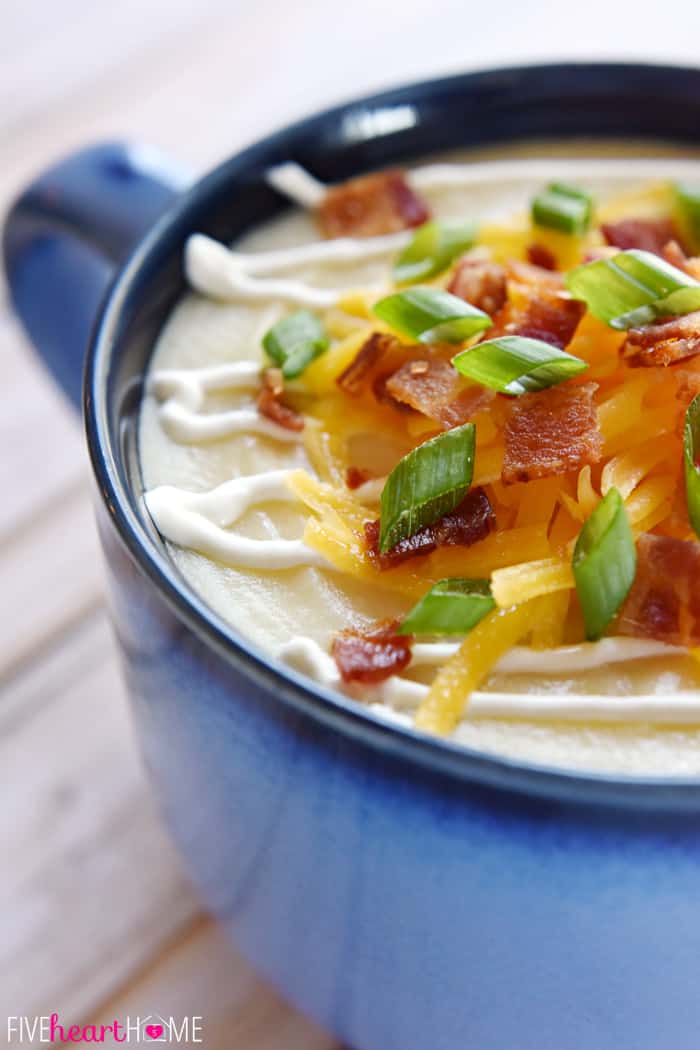 So who's ready to put your crock pot to work making a savory supper of Slow Cooker Loaded Baked Potato Soup? It's guaranteed to please and it's guaranteed to make you feel all warm and cozy inside, whether the thermometer is registering below freezing or a balmy 90-degrees. ;) I sincerely hope y'all enjoy this recipe as much as my family and I do!

Slow Cooker Loaded Baked Potato Soup

Yield: 6 to 8 servings

4 pounds baking potatos (such as Russets), peeled and cut into 1-inch cubes
6 cups chicken stock or broth
1 tablespoons fresh minced garlic
1 teaspoon garlic salt
Freshly ground black pepper
1 cup milk
1/2 cup sour cream
4 tablespoons butter
1 cup grated cheddar
GARNISHES:
Sour cream
Grated cheddar
12 ounces bacon, cooked and crumbled/chopped
Diced green onions or chives
Place cubed potatoes, chicken stock, and garlic in large slow cooker. Season with garlic salt and freshly ground pepper. Cover and cook for 8 hours on low or 4 hours on high (or until potatoes are completely tender).
Turn heat to warm and use an immersion blender to purée potatoes until smooth and creamy. Stir in milk, sour cream, butter, and grated cheese. Stir until all ingredients are melted and incorporated. (You may add a bit more milk if you prefer the consistency of your soup to be thinner.) Taste soup and, if necessary, season with additional salt and pepper. If soup is not hot enough at this point, place lid back on slow cooker and heat on warm for 5 to 10 more minutes (don't heat too long after the dairy is added or the soup may turn brown around the edges of the pot).
Ladle soup into bowls and top with your favorite baked potato toppings: a drizzle or dollop of sour cream, grated cheese, chopped bacon, and/or diced green onions.
You may use vegetable stock and omit the bacon if you would like to make this soup vegetarian.
You can use skim milk, 2%, whole milk, half-and-half, heavy cream...it's up to you! But obviously, the fattier the milk product you use, the richer and creamier the final soup is going to be.
The type of stock or broth you use is going to dictate whether or not you need to add additional salt at the end. I often mix up my own broth using Organic Better Than Bouillon chicken base, and since it's already pretty salty, I seldom feel the need to add more.
If you don't have an immersion blender, you may purée this soup in batches using a food processor or blender. Just allow it to cool down a bit before doing so, work with small batches at a time (don't fill your blender more than half way!), and leave the top of the blender cracked so that steam can escape and soup doesn't explode everywhere!
To drizzle sour cream, I stir it until smooth, scoop into a plastic sandwich baggie, and snip off a tiny piece of one corner. Then I use it like a piping bag for drizzling.
* * * * * * * * * *
Thanks for having me today, Marsha and friends! I'd be honored to have you stop by
Five Heart Home
or connect with me sometime via social media. :)
Slow Cooker Beef Barbacoa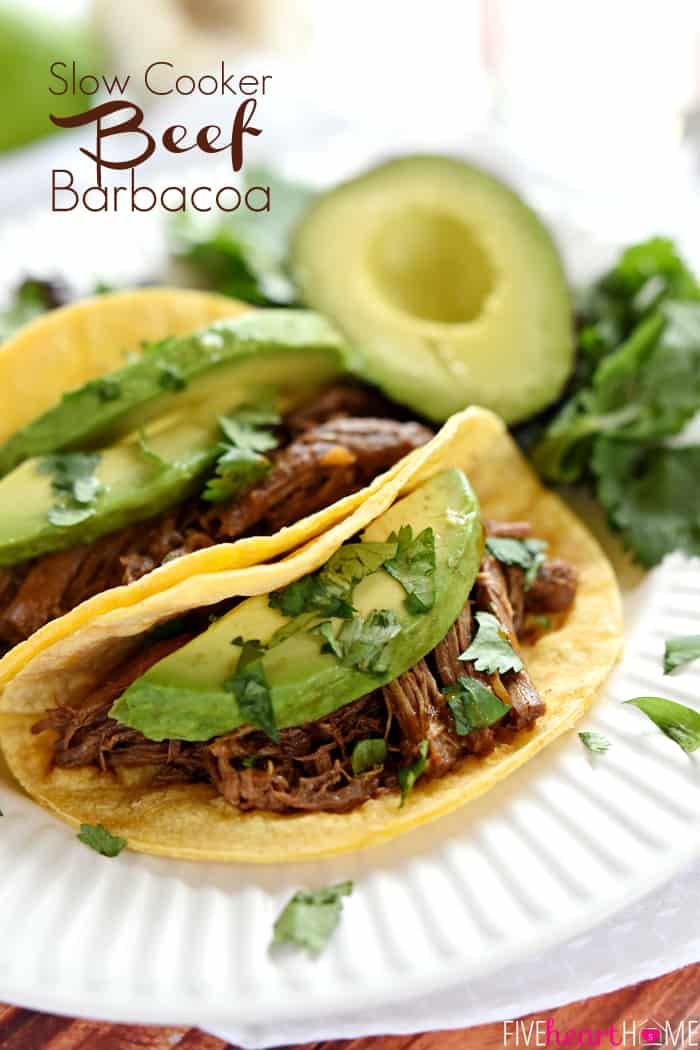 Homemade Whole Wheat Pancake Mix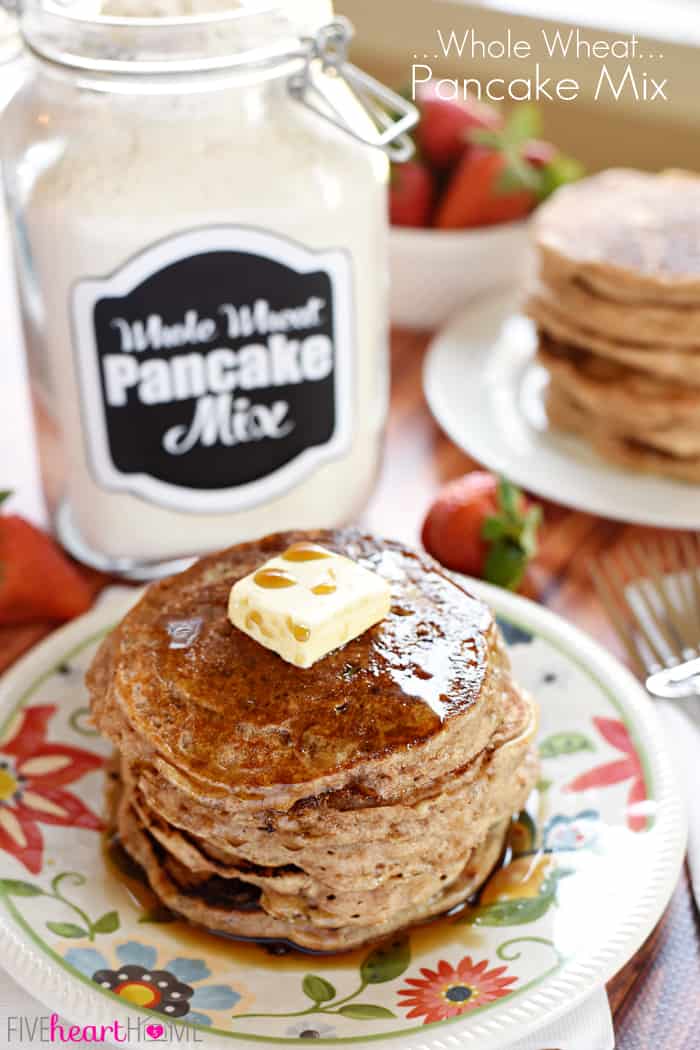 Skillet S'mores Dip

THANK YOU! THANK YOU Sam!!